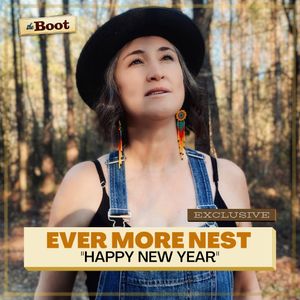 "Crafts a dense folk-leaning sound that swirls with moody atmosphere and incongruous optimism." — The Boot
Officially releasing on all major streaming/purchase platforms on Friday, December 2nd, "Happy New Year" premiered with a brand new music video today at The Boot. 
With the summer release of sophomore album Out Here Now still making waves, Ever More Nest is offering up a surprise holiday-season single. Recorded during the East Nashville Out Here Now sessions produced by Neilson Hubbard, "Happy New Year" demanded its own spotlight. With a little more alternative gusto than Out Here Now's Americana/folk-leaning arrangements, "Happy New Year" invites audiences to contemplate changing relationships and the relentless passage of time as marked by a holiday full of fireworks and electric energy.
Read more about the song and check out the new music video (created by Ever More Nest's Kelcy Wilburn) at The Boot.